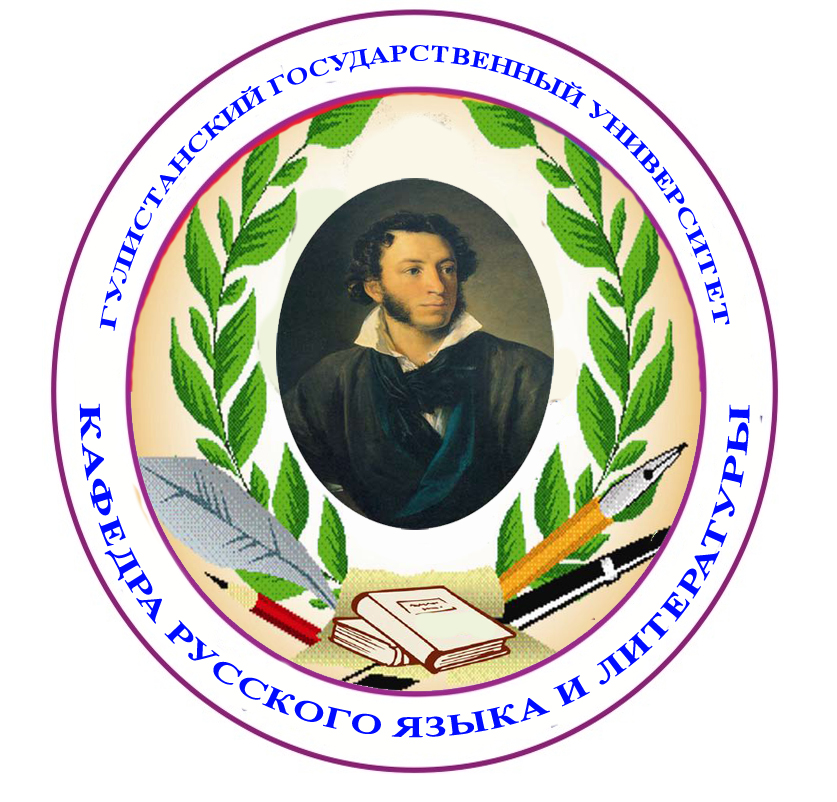 Head of the department: Uzakov Akram
Accepting time: Daily from 9.00 to 17.00
Telephone: +998 97 2770665
HISTORY OF THE DEPARTMENT
Department of Russian Language and Literature was founded in 1997 in conjunction with "General Russian Linguistics", "Methods of Teaching Russian and Literature" and "World Literature". There are 7 candidates of sciences, 2 senior teachers and 12 teachers.
The department prepares the following specialties: 5111300 - Russian language and literature (native language and literature) in foreign languages.
SUBJECTS OF THE CHAIR:
Russian Literature, History of Russian Literature, Conversation, Linguistics, Practicum on Russian literature and meaningful reading, Introduction to literature, Comparative typology of Russian and Uzbek languages, Theory and Methodology of teaching language and literature, Country study, Folkloristics, Theory and practicum of translation, History of foreign literature.
Implemented educational and methodical works:
At the department lectures, practical seminars, and independent study are conducted. Preparation of textbooks, manuals, teaching materials and lecture texts, presentation (slides) on all disciplines ended with a focus on the creation of methods and tools for organizing independent learning.
- Complete textbooks, manuals, teaching materials, supplementary textbooks and independent study (IS) pamphlets on each subject and distributed to students in brochures and in electronic form.
The department has a computer room, videoprojector, electronic literature, and IS slides.
- At the department there are electronic textbooks on 21 subjects and students are using it efficiently.
Educational and methodical work of the department:
At the department basic disciplines such as the history of Uzbek language, modern Uzbek literary language, languishing and comparative grammar of Turkic languages are tought. There are 48 teaching-methodical complexes, 4 of which are created by the recommendation of the Republican coordination council. In this academic year it is planned to prepare 11 teaching methodological complexes.
Research work of the department:
Professors and teachers of the department are conducting scientific researches on the theme "Actual problems of teaching Russian language and literature".
There were published more than 300 scientific articles and theses, 1 textbook, about 20 manuals and methodical manuals.
Spiritual and educational work:
1. In the events dedicated to the Independence Day of the Republic of Uzbekistan teachers of the department take an active part in the events which held at the regional, city and university. In this regard, the first lesson in all the courses are conducted by Professor S. Kulubaeva, B.Sobirova, D.Jabbarova and M.Baeshanov from the department using modern methods of teaching Russian language literature.
Working with new pedagogical technologies based on this complex is based on the use of computer technology in the classroom, in schools, lyceums and colleges.
With the effective use of this system in the training of scientific and pedagogical cadres, the department is supported by young specialists.
• At the department there are "Slovesnik" and "Russkoye slovo" students' scientific endeavors
Teachers of the department and gifted students have developed a computer program and a system of teaching, as well as electronic textbooks, manuals, and knowledge as a test and evaluation system.
Members of the Student Scientific Society take an active part in the preparation and conduction of national scientific and practical conferences on the issues of introduction of new pedagogical technologies in the process of teaching Russian and literature.
The seminar-training "Primenenie interaktivnyx metodov obucheniya russkomu yazyku i literature na zanyatiyax" with the participation of leading teachers of lyceums and colleges of Syrdarya region.
At present, works on placement of new scientific literature on the educational portal of Gulistan State University are continuing.
Recently, the Gulistan State University hosted the 2nd round of the Republican Olympiad on Russian Language and Literature. More than 38 higher educational institutions took part in this Olympiad. The student of the Gulistan State University, Mamatova H. won the first place at musical competition.