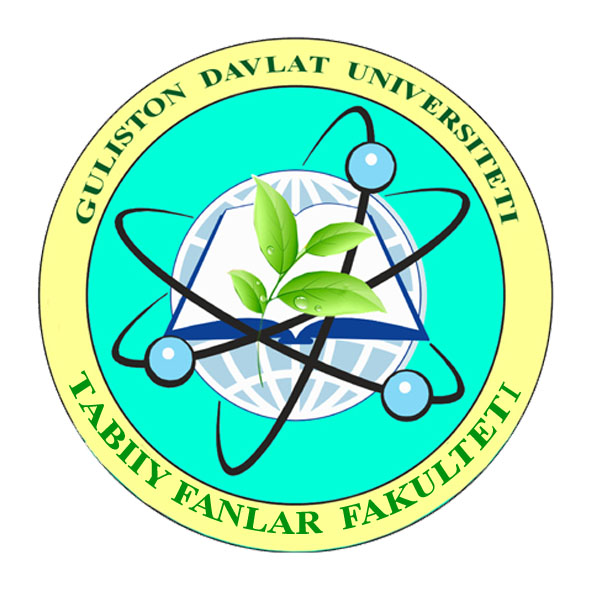 FACULTY ADMINISTRATION
DEAN OF THE FACULTY: Ergashev Ma'rufjon Maxammadjanovich
TIME OF RECEIPT EVERY DAY 15:00 – 17:00 (EXCEPT TUESDAYS AND SATURDAYS)
DEPUTY DEAN FOR ACADEMIC AFFAIRS: KASIMOV SHODIBEK ISLAMOVICH

TIME OF RECEIPT EVERY DAY 15:00 – 17:00 (EXCEPT TUESDAY)
PHONE (+99897-340-25-71)
E-MAIL: marufjon.ergashev@mail.ru
DEPUTY DEAN FOR ACADEMIC AFFAIRS: TUXTAMISHEV SARDOR SAYDULLAYEVICH

TIME OF RECEIPT EVERY DAY 15:00 – 17:00 (EXCEPT TUESDAY)
PHONE (+99897-340-25-71)
E-MAIL: stuxtamishev@mail.ru
DEPUTY DEAN FOR ACADEMIC AFFAIRS: ERGASHEVA FAROG'AT SHERALIYEVNA
TIME OF RECEIPT EVERY DAY 15:00 – 17:00 (EXCEPT TUESDAY)
PHONE (+99899-477-90-61)
E-MAIL: sattarov.sobidxon@mail.ru
DEPUTY DEPARTMENT FOR YOUTH WORK: MAHAMMADIYEV ZOKIR
TIME OF RECEIPT EVERY DAY 15:00 – 17:00 (EXCEPT SATURDAY)
PHONE (+99897-340-15-30)
E-MAIL: zokir.maxamadiyev@mail.ru
DEPORTMENT OF ECOLOGY AND GEOGRAPHY
DEPORTMENT CHEMIST
DEPORTMENT BIOLOGY
DEPARTMENT MEDICAL PLANTS AND BOTANY
DEPORTMENT SOIL SCIENCE
The faculty prepares bachelors in the following fields of study:
5110500 - Methods of teaching geography
5111000 - Vocational Education: Agronomy
5140100 - Biology
5140500 - Chemistry
5141000 - Soil science
5410200 - Agronomy (Pomegranate)
5411100 - Technology of cultivation and processing of medicinal plants
5440100 – Agrobiotechnology
5630100 - Ecology and environmental protection
5410100 – Agrochemistry-agro-soil science
The faculty prepares masters in the following specialties.
5A140100 - Biology (Botany)
5A140500 - Chemistry (Analytical Chemistry)
5A110501 – Methodology of teaching exact and natural sciences (geography)
5A141001 - Soil science
Scientific activity of the faculty Natural sciences.
Over the past 4-5 years, a unique system has been created at the faculty together with the Institute of Baccalaureate, Master's and senior research workers, in which 1245 students are currently studying in 10 educational areas and 33 specialties. 4 graduate students and 4 senior researchers participate in postgraduate study. The faculty creates a unique mechanism for the integration of science, education and industry. 700 million in the departments of the faculty. The sum of 11 projects is aimed at solving existing problems in the region. The project is being implemented at the faculty on the topic "Cluster approach to the development of higher education and industrial integration: the creation of an educational complex at Gulistan State University and the system of industrial integration" worth 173,000 euros. Project Manager prof. H.H. Keshiev, head of all departments of the faculty.
Currently, a lot of work is being done to improve the scientific potential of the faculty. From December 2018 to December 2019, 8 professors successfully defended their dissertations.
Existing departments collaborate with a number of foreign universities. Examples include Guttingham, Germany, Kazan Federal University, Moscow State University and others.
Faculty of Natural Sciences of the Academy of Sciences of the Republic of Uzbekistan, Institute of Bioorganic Chemistry named after O. Sodikova, Institute of Plant Chemistry, Institute of Microbiology, Tashkent Medical Academy, Center for Genomics and Bioinformatics. Has agreements with the National University of Ukraine on educational, methodological and research fields. Research Institute of Plant Biology Immunology, Academy of Sciences of the Republic of Uzbekistan, Research Center of the Ministry of Agriculture and Water Resources, Research Station of Livestock, Poultry and Fisheries, Uzbekistan Ministry of Agriculture and Water Resources of the Republic of Uzbekistan, Ministry of Agriculture and Water Resources of the Republic of Uzbekistan, Tashkent State Agricultural University, Karakalpak National University, Czech Agricultural University, Moscow State University, Institute soil science them. Dokuchaeva State University, Tashkent Institute of Irrigation and Mechanization, Research Institute of Soil Science and Agricultural Chemistry, Uzhydromet, Jizzakh and Syrdarya regions have a partnership agreement. In addition, he has agreements with the Gulistan Academic Lyceum on cooperation in the field of education, training and research with a number of schools in the region.
In addition, research is being conducted in conjunction with foreign international organizations IWMI, ICARDA, IPGRI.
Currently, 21 doctors and professors, 23 candidates of sciences and associate professors, 30 assistants work here.